Matching Families with quality German Rottweilers


[

Dear Amy:
I would like to take this opportunity to thank you for helping me getting a Rottweiler puppy from Europe. I'm glad that my puppy named "FIGO" came from a European blood champion lineage. I'm sure he will follow his parent's steps in America. Figo's parents, the European champions Dack Flash Rouse and Nena Flash Rouse, in my opinion, is one of the greatest creatures in planet! This was a nice experience for me because I didn't know anything about the process in importing puppies from Europe. Again, thank you very much for being patience with my questions. I am glad that our business transaction was successful for both of us. "FIGO" is doing very well since he came to California. He has an excellent personality and he is very friendly and well socialized with people. I can tell by now that Figo is extremely intelligent and he already knows his limits. I am also glad I got Figo because he has a large and balanced body structure with a big head and beautiful color. I'm attaching Figo's picture at 13 weeks old. Furthermore, I will not hesitate to do business with you in the future because I trusted you from the beginning.
Best regards
Javier

We purchased our dog back in June... he was the alpha dog of that pack. We were unsure about that because we had been informed that you don't want the alpha dog... but we trusted that it would work out... and it did! Our dog, Jager, is just turning 8 months... he is the best dog I have ever had. I had a Rottweiler before Jager who passed away last March. She was a wonderful dog but tended to be overly dominant in certain situations. Jager is not at all like that. He has a wonderful disposition. Very gentle, although he's huge already! (86 Lbs and growing) He loves people and kids. When he is around small children he lays down completely flat, very submissive to the children. They can be screaming, laughing, and poking, and he just lays there... loving and gentle. We have not had one problem with other dogs... small or large, he is great with them all. He is so calm that he will calm the unstable dogs when they approach us on a walk. There have been two times on a walk that he has growled... one time, it was dark and the person walking in the distance was wearing a strange hat... so i think he was uncertain... the other time, i just think there was something wrong with the guy and Jager sensed it. I am never worried or concerned about how Jager will act when we meet someone. It is amazing. And I think that comes from his lineage. I heard his mother has the same gentleness about her.Now to add to that, I do believe another reason for how great he is that we exercise him a lot. A large breed dog, and being a Rottweiler, having a character trait to protect the family, needs to go on long walks and runs. And we are committed to doing that. Any dog with out exercise will never live up to it's potential. Dogs need exercise, like people need food.If you know anything about Rottwielers they are awesome dogs. They love to cuddle... even at Jagers young age he will lie there and snuggle up to us. He will lay in his crate, quietly, in the morning until we come and get him. They are very loyal and love to be around people. I recommend having the dog as part of your family... they want to be in with the family, not left outside all the time. They are strong, so training is a must!Now that I have Jager, I would not buy another Rottweiler from any other breeder then Amy. She helped me at times when I didn't know what to do (we were new to the puppy stage)... besides she has proved to me that her dogs are the dogs to own. Jager is gorgeous! Great markings! From my experience, I can highly recommend Amy.Jager is awesome! We just adore him. The best dog EVER! So sweet, charming and well behaved.

Hi Amy,I hope that you and your family had a Merry Christmas. I wanted to share some pictures that we took of Gerda (the pink puppy thatwe picked up in October) over the holidays. She is now 16 weeks old and as of Saturday's vet check up she weights 42.5 pounds. The vet says that she is going to be a really big and healthy girl.We are so happy with her!! She is truly beautiful, as you can see from the pictures. We have started doing to some basic training so that we can keep her in control as she gets older.Happy New Year!!(Female puppy)
Amy,

My family and I would like to thank you so much for such an outstanding male puppy. He has an excellent temperament and disposition. We currently own a female rottweiler and owned many in the past, and there is a noticeable difference in the quality in your dog. We have researched and talked to many breeders. You are honest and very professional (from the beginning), always ready to answer all my questions. So we would like to thank you for making this a pleasant experience. I would highly recommend you to anyone who is looking for a "perfect" rottweiler for show/work or just wanting a well behave and reliable temperament rottweiler to be around with children or other pets.

I will always try to keep you updated on Fetish's progress. Thank You for bringing these great European Bloodlines to the USA.

Best Regards,
Simon from Texas
Amy,
I wanted to take a moment to thank you for Remy. She has been a fabulous addition to our family. Our children absolutely adore her. We just completed our first puppy training class and Remy was clearly the class favorite. She loves meeting new people and new dogs. I'm always amazed at how she adjusts her style of play to match her partners. Whether she is playing with an 80lb Mastiff puppy, an 8lb Yorkie, or our own children, Remy recognizes the difference and everyone has a blast. We take her everywhere we go and the comments we receive are always the same..."What a great puppy!" Remy is a wonderful ambassador for the breed. You should be very proud of the puppies you are raising. They embody all of the characteristics that Rottweilers were intended to possess...intelligent, loyal, and loving companions. I hope you enjoy the pictures. Feel free to use us as a reference in the future. Buying a puppy can be a challenge...especially when you're
doing most of the research over the Internet or by phone. You made the experience a memorable one and we are so pleased with our decision to purchase a Gentry Creek Rottweiler. Thanks again.
My wife and I receive our rottweiler from you this May. We are thrilled to say what a great family pet he is. He is now 8 months old. He is great with our 8 year old son and our other 17 month old rottweiler. He has a very calm temperment, easy going, obedient and great fun! He has all the wonderful markings of a German Rottweiler that I was looking for. I was a bit skeptical about purchasing a puppy via the internet due to a previous rip off, but after talking to you and getting to know, we felt very comfortable proceeding. I highly recommend to anyone looking to purchase puppies from you, not to worry, they are getting a great quality puppy from a exceptionally caring breeder.

Sincerely,
Corey and June Davis
New York
I owe you a looong e-mail about Lexie and Mocha. Here's a quick update. They're doing WONDERFUL!! They're both so sweet. Sure enough, Lexie is our 'troublemaker' and still, at over 40 lbs, can maneuver her way through the fence to go see Kellie's boys Jagger and Brady. We've nicknamed her Lexiedini because she's like a magician. She can open the pocket door in my closet to shop in the "Mommy Mall." That happened around 9 weeks old. They're both very very smart. They watch us and Jasmine, our other Rottie do something, then they do it too.
Mocha is over 50 lbs now. He's growing at a steady 3.5 lbs weekly. He's a teddy bear and very food motivated, which is great for training. We've turned down numerous offers from breeders and private people to purchase him. Whoever gave him up missed out, but we're very thankful to them!
You should see the 2 of them walking together. We go walking every evening at a park near the house. It has a large lake and several trails. They love 'styling and profiling' for everyone. All the vets in our practice love them and have commented on how well mannered they are. They visit the vet regularly for puppy day care and 'puppy spa.' I'm so glad we got both of them!!! The vet has already mentioned spay/neuter, but I'm not ready for that quite yet.
Can you please send info on the other pup. One person at our vet and our UPS man were very interested in your October puppies after being around Lexie and Mocha. I wanted to tell them about the puppy in case they were interested. I'm hoping it's not the puppy above your pic on the web page. Otherwise, he might end up at MY house :D
Hi Amy I hope all is well with you, I just want to tell you that Iam so happy with my dog..I love her soo much and lets not get in to how much I spoil her....Thank you sooo much...here are some pics I hope you like them...
Hi Amy,
We drove up from Chicago last August to pick up one of the rott puppies, and just wanted to let you know how happy we are with our large, and getting bigger, pup "Laurel." She's one of the best dogs we've ever owned and has an amazing temperment. Our vet calls her the "golden retriever in rottweiler pajamas" because she's so friendly and outgoing. John and I both work with disabled adults and we are able to bring her to work often. She's is so good with our clients that she's in training to be a therapy dog so we can take her into other institutions. I've attached some recent pictures of her, including her playing in the 14 inches of snow we received a couple weeks ago (which she loved!)
Hope all is well.
Take Care!
(7 month old female)
Hi Amy!!! Just wanted to say hello and tell you about Sprocket.....He's 10wks. today and weighs 25 whopping lbs. Had him to the vet again today and he got a bath w/ a groomer yesterday and they loved him!!!! He is the greatest dog!!! He loves going to work w/ me and we bought him a full size crate that he will fit in when he's full grown. He has also bonded w/ my other dog which is good. He knows basic comands now, sit, come, down, give, no bite and walks great on a leash. He also sleeps all night and I have him used to a routine and it works well. He loves to be brushed and I love to play w/ him..He has a great dissposition which is good..But he does puppy things and w/ him being a Rottie, I can't let him get away w/everything. I just love him to death!!!! Any way, my other lap top got a virus and I have to re-install my kodak software for my digital. I have to redo everything but I like doing at night when it's quiet. Hope all is well w/ you and I really wanted to let you know that he is very loved and happy. Maybe I'll talk to you soon....Sorry this was so long...LOL!! Amy


hey amy, how is it going? hopefully all the pups have been sold and are off to good homes.forestt is being a great little boy. he cries to go out so,,,,, not sooo many accidents in the house so far.... anyway as soon as i can i will get you some pics. take care, kim and forestt Hi Amy, We all got home safely at about 2 am Sunday morning. Although we are exhausted, we're having so much fun with "Loreal!" She did great in the car ~ she sat on our laps for the entire 10 hours. She is the sweetest thing ever! She already has her potty routine down and her energy is endless. After a 20 minute nap, she's ready to play again. Thank you so much for providing us with an adorable, fun puppy. We enjoy her SO much! She's going to be very spoiled. Good luck with all the other pups and we'll definitely keep you updated!

~ Sheryl and John



Hi Amy, We're all doing very well. We're having so much fun with her. She's absolutely wonderful with kids and other dogs. We've been so busy with her. We took her to Michigan over the weekend where she was on a boat all day and went swimming in the lake and she's been to three family parties with tons of kids playing with her all day. She's so tolerant of everything. Not high-strung at all! Hope all is well down in Tennessee! ~ Sheryl and John
Hi Amy, We all got home safely at about 2 am Sunday morning. Although we are exhausted, we're having so much fun with "Loreal!" She did great in the car ~ she sat on our laps for the entire 10 hours. She is the sweetest thing ever! She already has her potty routine down and her energy is endless. After a 20 minute nap, she's ready to play again. Thank you so much for providing us with an adorable, fun puppy. We enjoy her SO much! She's going to be very spoiled.
Hi Amy We have been wanting to email you to let you know that REBA is doing fabulous. She has quite the little personality and is quickly growing into those big paws. She is VERY sweet and has a wonderful temperment. She really loves to play with our daughter and her big brother Tank. Thank you so much and we have attached some recent photos. Keep in touch- Chad & Angie Ross


AMY -

Blue is doing AWESOME. He is already 25lbs and growing !!! He is an eating machine.
Last night he palyed with our friends 190lb St. Bernard. Blue is fearless ! They both had a great time. Dana took Blue for a walk this morning and he led her back to where they were playing.
He has got to be one of the smartest puppies we've ever been around. He already knows how to Swim(this dog is a fish),sit,laydown,climb,come,stay,shake,fetch, and soon I hope to teach him to turn on the hockey game and get me a beer ! We try not to spoil him too much, but he already has us figured out.
Anyway, we are so happy to have him, he is the best. Thank you so much. We'll email some pictures next week.

Thanks Again !
Mike and Dana






Hey Amy!!! Thought you would like to see a pic.of Sprocket...He is 8mo. old and weighs 100lbs. He is a magnificent dog!!!! We love him dearly and he responds well to commands. I got hurt at work so I'm home every day am able to work with him and be a Mommy too!!!! He is very protective of Garrett but loves kids!! He stays in his front yard and comes when called...He is really awesome ... let me know if and when you will have more pups know someone who is very interested. Sorry that it's been so long and hope all is well with you.....Write back when you have a chance Ok? Amy S.
Hi Amy,Mocha and Lexie are still fantastic. They were 73 and 61 lbs this week. Our other rottie Jasmine had to get ACL surgery last week. The pups have been great while she's been recuperating. They seem to know she's not at her best and they're not jumping on her or bothering her in any way.Our veterinarians and their staff continue to be amazed at how laid back the pups are. I take them walking around the lake near us and they do very well. Even people who say they've always been scared of rottweilers love playing with the pups and getting rottie kisses. They've become rottie ambassadors. Both of them have the rottie "can do" attitude and they work so hard to please. We can teach them a new trick in minutes. They've been everything we were looking for and more. I can't imagine our home without them.Thank you so much for breeding quality puppies that exemplify the rottie breed. We've recommended you to many people and will continue to do so.I'm sending you pics from this morning. It's not their best head shots but you can get an idea. The July pic is a nicer head shot of both.


Amy,

It's so good to hear from you! Actually, my husband and I were just talking about you yesterday and thought that we would mail you Fall photos when we have them done next month. So in the mean time, I have attached some photos of Hans in various stages of growth. Please enjoy.

He is doing very well and a testament to your impeccable breeding. Our vet is astounded by him. She is so pleased, as are we, that he came through the Parvo so well. He bares only a solitary bald spot on his back from the illness. Now he is six months old and over 60lbs and so very beautiful. His temperament is wonderful and he is too smart for his own good!

Hans has many new friends including my four year old step-daughter, his big brother Miles (the Pug in the photos), and his buddies: Bud T., Maisy, Bones, Brownie, Mitsy, Ace, Sam, Daisy, Cleatus, Reba, Angus, and other various and sundry puppies he meets at the dog park. It is so sad to see many of these little guys beat up on the big boy. =)

He has many favorite things including going to the dog park to hike and swim and of course to the lake to ride in the boat and swim some more. But the best things in life seem to be the smallest wonders like; drinking water out of the bath tub (demanding water out of the bath tub), waiting for a piece of ice to chase around inside the kennel (demanding ice), and as seen in the picture, play with bugs.

We are so pleased with him and could not ask for more in a four legged family member. Thank you so much for bringing us together and making us whole again. Best wishes to you and yours.

Kind regards,


Poindexter Family
"Barley, John, Madison, Miles, Hans" 5 Month old pup
Rottweiler, German Rottweiler, Rottweiler Breeder, German Rottweiler Breeder, Rottweiler Puppies, Rottweiler Puppies For Sale, German Rottweiler Puppies, German Rottweiler Puppies For Sale, Rottweilers, Atlanta, Georgia

Alabama, AL, Arizona, AZ, Arkansas, AR, California, CA, Colorado, CO, Connecticut, CT, Delaware, DE, Florida, FL, Georgia, GA, Hawaii, HI, Idaho, ID, Illinois, IL, Indiana, IN, Iowa, IA, Kansas, KS, Kentucky, KY, Louisiana, LA, Maine, ME, Maryland, MD, Massachusetts, MA Michigan, MI, Mississippi, MS, Minnesota, MN, Missouri, MO, Montana, MT, Nebraska, NE, Nevada, NV, New Hampshire, NH, New Jersey, NJ, New Mexico, NM, New York, NY, North Carolina, NC, North Dakota, ND, Ohio, OH, Oklahoma, OK, Oregon, OR, Pennsylvania, PA, Rhode Island, RI, South Carolina, SC, South Dakota, SD, Tennessee, TN, Texas, TX, Utah, UT, Vermont, VT, Virginia, VA, Washington, WA, West Virginia, WV, Wisconsin, WI, Wyoming, WY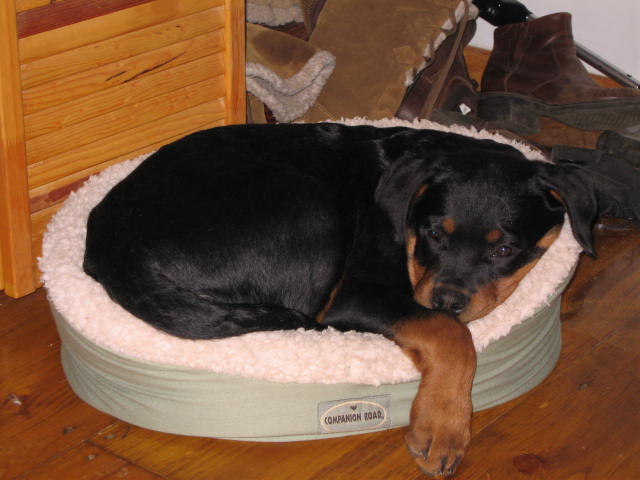 But Momma, I like my baby bed!
Well, Ben turned six months old on Monday, and he is amazing….he is the best pup I have ever had……and you were right about "runts"….he is 80 pounds as six months old! I don't know how big the others all are, but Ben is developing nicely!! He is so mellow, and doesn't get "into" stuff at all….he will just walk around and play with all of his toys, and does not bother anything in the house at all….except for my husband's "crocs"….I think it's the sqeaking when he chews on them…..HA he entertains himself and listens absolutely divinely !! When we take him out everyone still falls in love with him…..he is just fantastic…..



Hi Amy,
I wanted to send you an update on Heidi and let you know what a perfect puppy she is! As you can see from attachment (picture of the two in the cage), she's excellent with out granddaughter They play together for hours and Heidi never bites her or knocks her down. Her temperment is wonderful. AND she's the smartest puppy we've ever had. She is attending puppy pre-school and learns so quickly. Also, thought you'd like to know, the instructor is very impressed with her. He asked where I got her and commented that she has a beautiful head. Everybody mentions what a sweet face she has.
She's absolutely wonderful except for being a bit of a tease to our old dog (she follows her and bites on her tail-I have to use bitter apple on poor Bess's tail) but Bess is pretty tolerant and has accepted her. Hope you can open and see both pics. The one may be too big but I'm experimenting with this picture package. Thanks again for raising such great puppies!
Ann Wartner
ps. Kate's dog, Gunther is doing great also. He's taken Charleston by storm-everybody loves him. He's quite the little beach dog




Thought you might be interested in how Cyrus is doing. He is 8 months old and the joy of our lives. His fun loving personality is very different from my other 3 rotts. He is always smiling. His expressions just make you want to hug him all of the time. He licks like no other dog I have ever been around. He is just so full of love. He is also very intelligent. We can't get him to swim yet, but he goes into the shallow end of the pool 2 or 3 times a day to cool off. His top line is still weak, but otherwise he has killer looks. It's obvious he is going to be very tall. He is already the height of my 7 year old female and out weighs her big time. He is very solid to say the least. I learned from Bob Flynn of West Coast Rotts that Ramzes's off spring mature slowly, so I have a feeling Cyrus will be very very large when he is fully mature at 3 years of age. My wife Jill never took an active roll with our other dogs, but Cyrus is all her's. She did all the training courses with him and when ever we walk together she take Cyrus's lead. They are great together and she worships the ground he walks on and he worships her. He still has that swagger, but it is not as ridiculous as when he was a puppy. Bob feels he will grow out of it and since it is not as bad I tend to agree.




Hi Amy!
Just wanted to send you some recent pictures of Gunther. He is doing GREAT! I'm on spring break so I've been able to spend all day with him this week, we've been to the beach every morning and he's becoming a little celebrity over on Sullivans Island. Took him to a couple bars that allow dogs and he did well there too. (although he did pee on the patio but that was my fault!) He went for his first swim today over in a pond near my house, I can't wait until it warms up a bit so I can get in the ocean with him - he's still not sure of the waves yet but he likes the little tidal pools. I'm going to get him a little kiddie pool for the backyard today and a babygate for the kitchen to see if I can let him stay there instead of his crate while I'm gone during the day- and just keep him in the crate at night. He is so smart - I loved my Basset dearly but what a difference - Gunther doesn't even need a leash on the beach and places that are car free and he sticks right with me - even comes when I call him - Burton use to look at me and take off the other direction! He has a little separation anxiety if I go into a differnet room and shut the door and doesn't like to be outside alone - we are working on that - and we start puppy school April 27th. He is fine at my softball and soccer games though and hangs out with whoever is there to watch him while I am playing - working towards when he is older and he can just hang on the sidelines by himself. So all in all things are excellent. We are going to a beachouse next weekend in Edisto and my friends all bring their dogs so I'm looking forward to that - and hoping to take him on his first boating excursion this weekend.
Hope all is well with you - thanks again - I'll keep you posted as we go along!














Hi Amy,

Just wanted to let you know that Jolie is doing absolutely fabulously!!!!!! She is a star!!!! We are enjoying playing with the tennis ball and are heading down to the beach when she awakes from her nap. All my neighbors have brought over "welcome to the neighborhood" treat/toy bags for her and I am enjoying familiarizing her the sites/sounds of life in Southern California.

We went to the vet yesterday to check in with them and for a visual exam. We will head back in on Tuesday (they didn't want to give her shots/worming) as they didn't want to traumatize her after her flight, etc..

I can't tell you how wonderful she is and how she has exceeded my wildest expectations.....and that, after less than forty eight hours together. We are inseparable.

Thank you a million/trillion times over and over!!!!!



Hi Amy,
Just wanted to let you know Ivan is doing great. We all love him, including the schnauzer's. Here are some pic's for you.

Hope all is going well. Thank you again for a great pup. He is wonderful. Also, I have spoken with Teresa here in Aurora, she got one of your other pups. She is very nice and we are going to take both our boys to training class together. Very fun.





No need to be worried. The puppy arrived up just fine. I was waiting for the nanny to send some pictures so I could send you some pics of the pup with the kids. He is a cute little pig. Good build and good markings. He has taken to my son very well. He and my son wrestle in the family room non-stop. I have not been home to see him, but my wife adores him and he will be a geat addition to the family. He is doing well with potty training and my wife says he is very smart.. My son is generally lazy, but has been taking care of him. We did not change his name, as we liked Juno. I have been looking forward to sending some pics and will do so as soon as I get them. So in the short we are very pleased with the pup. Formerly we owned the son of the illinois state champ Rottweiler, his name was Goliath. This pup looks almost exactly like him, and I think his build is a bit better. His temperament is excellent, which is a huge reflection on you and your husband. Thank you.

Hi Amy.................

Thought I would check in with you and let you know that Jolie is doing wonderful. The "puppy camp" experience was an absolute success............I really think that she needed some sort of a space transition, between your sprawling home and my beach house. She, now, is enjoying our routine here....our morning trip down to the beach for her to romp and play in the surf, either by herself (or with me) or with other neighborhood dogs. She loves to look for "treasures" in the sand and water. The swimming and playing in the deep sand is really helping her muscle development and she enjoys the exercise. We also have found another nearby park (after living here nearly 30 years, you would think I would have been there before) full of large eucalyptus trees, squirrels, lizards, rabbits and many hilly trails. A couple of weeks ago we went in for her six month check up...............she is about 22 inches at the shoulder and weighs eighty pounds. Brigitte (the trainer) has told me that she is the size and physique of a 10-11 month old pup, and also the largest female pup she has ever seen.



Hey Amy - just a quick report that Gunther is doing great! I have been having SO much fun with him and everyone loves him (except for a few of my non-dog loving friends who don't appreciate him licking them - and of course those are always the ones he beelines to) He's getting to be a good little swimmer and loves the beach. Very smart - loves everyone but already getting a little protective when something seems off, I feel very safe with him.

I'm heading up to MI with him this Thursday so we will send some pics of he and Heidi's reunion - hope all is well!

Kate






Hi Amy….

Hope to find all well with you, your family and all of your babies……just wanted to touch base with you and let you know that our sweet "little" Ben at almost 8 months old is over 100lbs.!!!! He is the "hit" everywhere we go…..I do plan on coming back for another pup some day…..my Ben is probably the best dog I have ever owned…..he is an absolute "lick-a-holic" with everyone in the family…..my 4 year old granddaughter and Ben are the best of friends….they play "safari" all the time, and Ben will follow here where ever she goes….Ben is so smart…..and so cooperative to his commands….all I have to do is point my finger to where I want him to go, and he does….my granddaughter does the same thing now, and he listens to her just as well as he listens to the adults in the house…once again….thanks for such a great dog….next time, I will send some pics of my gorgeous Ben….